The Cathedral Program
Thanks to Our Donors & Volunteers
Snow Angels in Ecuador is grateful to our wonderful donors and supporters, who have made the work that we do at Snow Angeles in Ecuador a possibility, so first a well-deserved "Thank you very much" is in order. We are equally thankful to the enthusiastic and hard-working volunteers for making the time and effort to go out into the field in these most dangerous times. They have been out in the trenches feeding the sick (sometimes dying) and elderly, the homeless, the stateless, and the working poor in and around the area of Parque Calderon and the Cathedral of Immaculate Conception (commonly called the New Cathedral). Beginning with our collaboration with Hearts of Gold and Cuenca Soup Kitchen, Snow Angels has been devoted to helping these seemingly invisible angels that, that we see every day, and who live in the very heart of the community we call home.
The Problem
While the Covid-19 pandemic has brought "business as usual" to a rapid standstill, the most significant fallout is that Snow Angels in Ecuador no longer has access to the Posada San Francisco as a principal base of operations. That meant that for the first few weeks of the lockdown, we could not operate in any capacity whatsoever. Making this worse was that many of the families that interacted with daily had no choice but to go out into the streets to beg for that day's meal and money to pay for a floor to sleep on for the night. Because we were unable to attend to our client's needs, they and their families were more likely to contract the virus, as the needy had few choices other than to continue to beg for food in this toxic environment. Imagine catching Covid-19 in a country where you have no money, no health care, and seeking relief from an already struggling social system. We felt compelled to find a way to continue supporting the people and families that we fed regularly during the pre-Covid days. These people mostly gravitate around the Parque Calderon probably because of its nearness to the Cathedral of the Immaculate Conception of Cuenca, which is also a location that we visit daily, as many of the Cuenca's poorest, stateless and disabled regularly congregate here seeking alms from those that can help.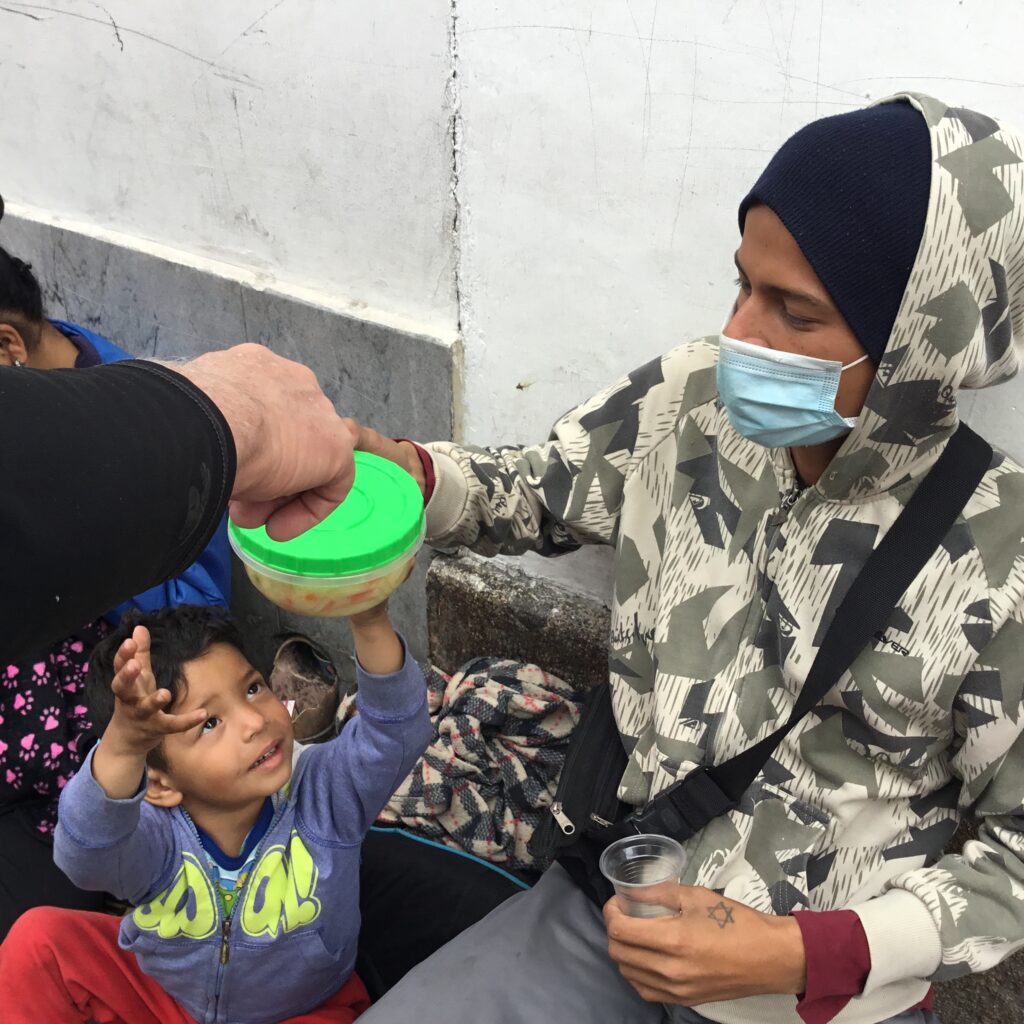 The Solution
During that time, our power of volunteers decided to continue with the outreach program and improve it where they could. Where our original outreach meal program had consisted of a ham sandwich as well as a cookie or a piece of fruit (and juice for the young ones), Kathy decided that she would also start serving 10-15 hot meals daily to several of our clients most in need. They can now look forward to a hot meal served five days a week, usually consisting of a traditional Ecuadorian lunch (almuerso) of Seco de Pollo (stewed chicken), Menestra de lentejas (lentil stew), sometimes tostones (fried plantains), as well as plenty of white rice and some vegetable or a small salad. Not only the meals hot and tasty, but they are also traditionally relevant to the clients we are serving. For most, this is the only meal for the day, which adds to the sense of loyalty we have committed ourselves to for the hard days yet to come.
New Initiatives for Health Care
Dental Care
So far, nine people now have complete sets of dentures, and we have provided dental care for three families, including extensive care for a five-year-old girl that allows her to eat solid foods. Dr. Maia Elena Quizhpe has been fantastic in our efforts here.
Prosthetics
With help from Dr. Jorge Cherrez, we have also arranged and financed leg prosthetics for three men. We have also provided one man with hearing aids. Additionally, we have funded six months' worth of medicine for three people who need the meds but cannot afford them.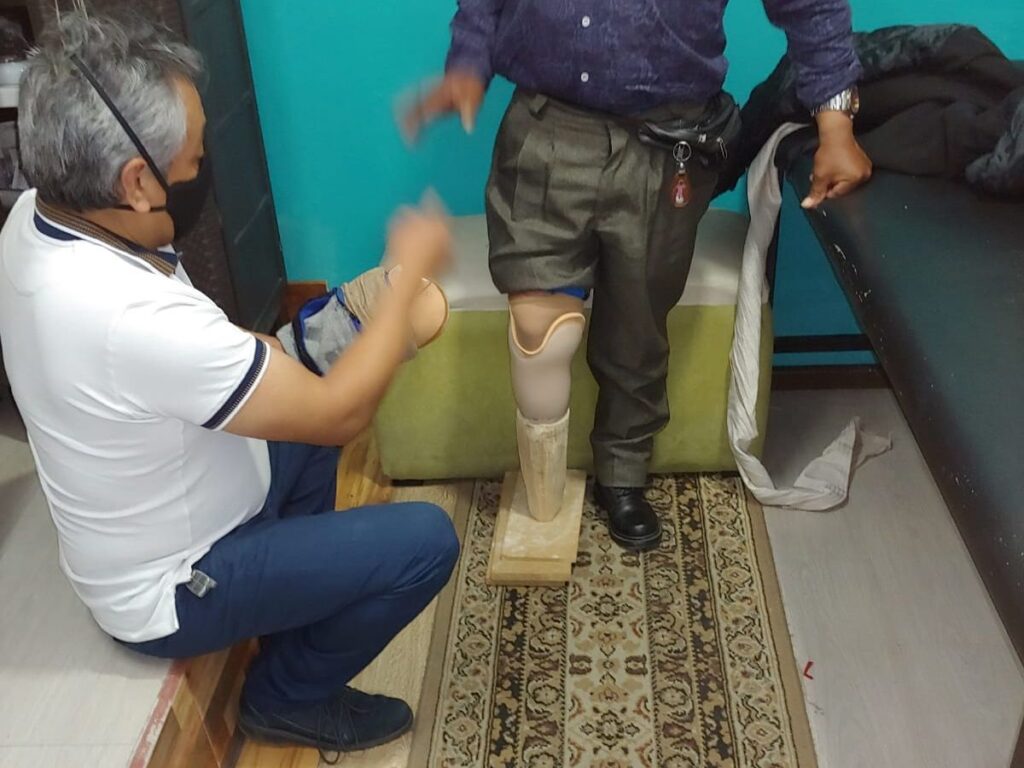 Assistance for the Deaf
This year we has the budget set aside to assist the brother of one of our clients with a set of hearing aids. With the thanks of the good people at Auditiva and with Dra. Jimena Mancera at Mt. Sinai, we are proud to say that one of our nearly deaf clients is now able to hear, thanks to the assistance from our donors.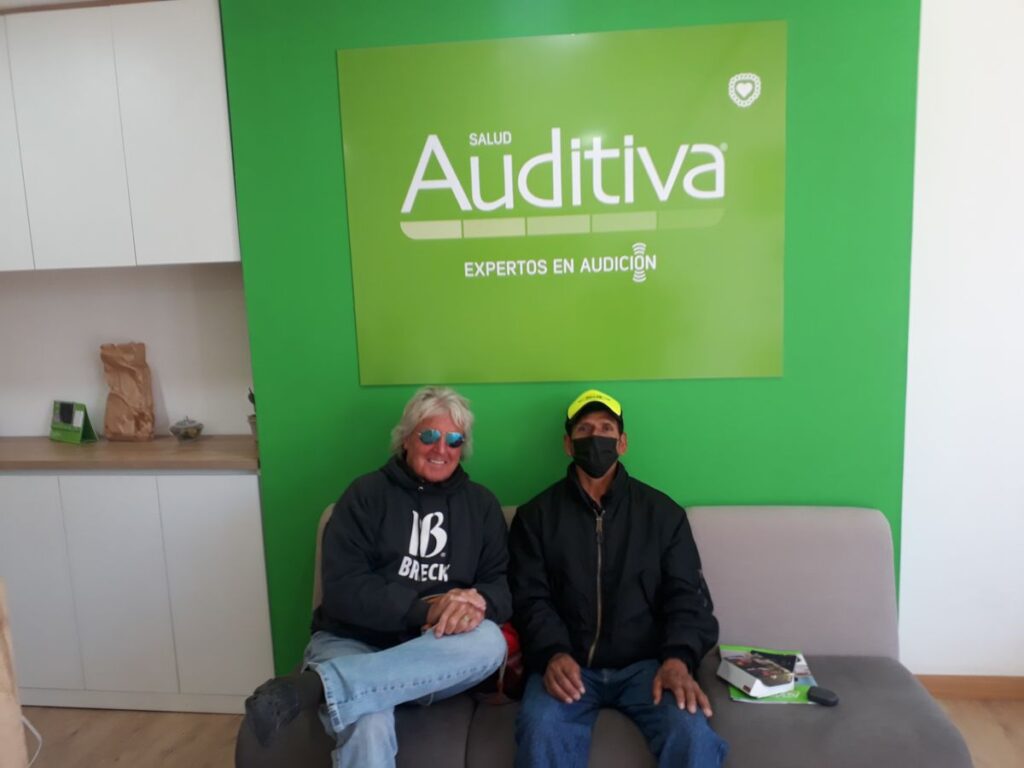 Related Projects
Fundación Estefania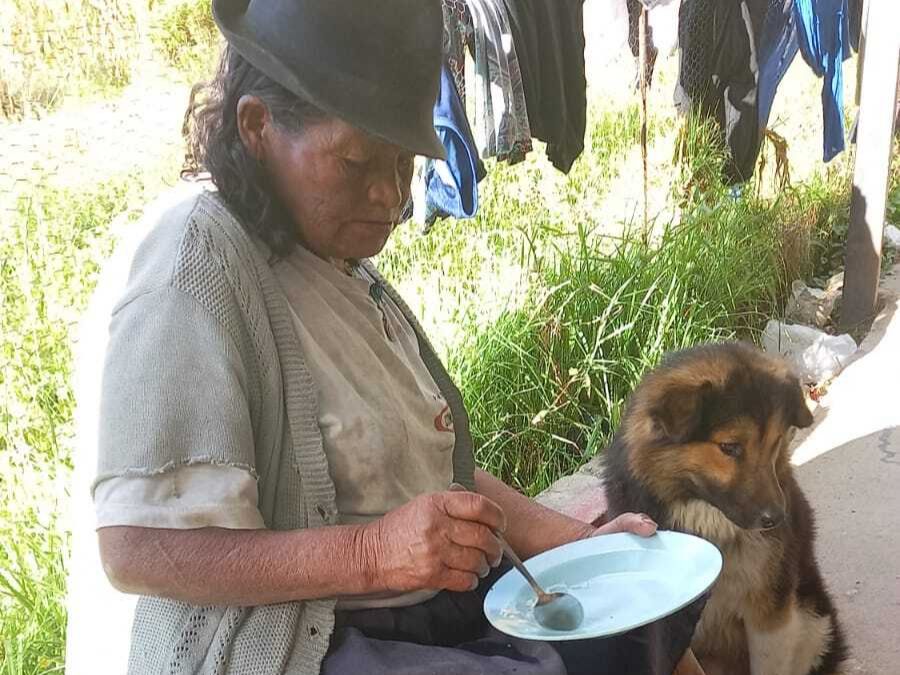 When Joel returned this spring, he began a new relationship with Fundación Estefania. That is a continuation of our involvement in the small village of Sevilla de Oro, where we have helped 33 older adults over the past couple of years with food and other day to day items. With Estefania, we are now assisting with the physical therapy of some 45 disabled people in the village. We are assisting with the care and helping provide a small meal when the care is provided.
In early June, he found a dentist who has a mobile dental unit. She has roots in the town of Sevilla del Oro, and when I told her what we were doing there, she was kind enough to say she would like to help. Starting in mid-July, she will have her equipment set up in a location in town, and she will provide dental care over the next six months for the 45 disabled people we are presently working with. We will pay for the patients' materials and some transportation, and Dr. Gladys Figueroa will donate her labor and equipment. These disabled people have probably not seen a dentist in years, if ever. We are very excited we have been able to make this program happen.
Make a Donation